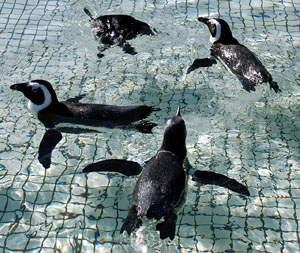 some very cute penguins swimming in a very not foggy pool :) Photo is obviously not mine, but a gentleman's by the name of Michale Leibow
Well, the pool wasn't filled with fog, but it was certainly covered with it when I got in Tuesday night at 6pm after class. We've been hit hard by fall fog this week, adding an eriee presence to the redwoods covering out campus. The fog has been twarting city efforts to air spray this county (and many others) to stop the reproduction of Brown Apple Moths. Though the city promises there will be no adverse health risks to the spray, the idea of chemicals misting down over everything at least once a week for 2 1/2 years seems like a recipe for some kind of health reactions. But, with no visibility, sprayings can't happen. Once they do, people are saying not to be outside in the evenings and mornings. Fabulous.
So, with no chemicals yet in the air, and a crisp lower 50s temperature in the fog filled night, I got into the pool for my second attempt at lap swimming. What I hadn't calculated was the change in perception night swimming would offer. Now, on a clear bright day, I can't always swim in a straight line. When one is sharing a lane, this becomes a bit of an issue. Usually I try to error on the side of caution and end up hitting or entangling myself in the lane separator, much to my embarrassment, and I'm sure the amusement of others. Swimming in the artificially lit (and well heated!) pool, I got varying senses of claustrophobia, that I was sinking, and that I was a good 2 feet over from where I actually was. I did manage to never hit my lane sharing buddy (a super speedy New Zealander-I"m guessing from his accent- who literally sent waves across our lane with his ridiculous swimming abilities) and never did any too permenant damage to the lane divider :D. The pool closes at 7 on Tuesdays, so I was limited in my time and was only able to do 40 minutes. Still in that time I was able to swim 50 laps!
Unfortunately, and potentially as a result of leaving the pool with wet hair and walking to my car in the cold night air, the cold that has been threatening for weeks finally decended, leaving me sounding like a frog (or mouse, potentially, as my voice does have a sqeaky aspect to it) and not working out tonight. I'd really like to, but the cold has totally settled in my lungs making breathing a bit more difficult, and me feeling just super low energy. So, time to get some good rest, yet again :)
Hopefully I'll be able to go swimming again soon!
On a separate and unrelated note, I broke 10,000 visitors to my site today :D Granted, I think it counts me when I come to upload stuff, so that number is a little inflated, but its still pretty cool. I've been really enjoying this whole blogging thing and all the people I have 'met' (or actually met) through it. Hopefully I'll be back to more substantial and picture filled postings soon!