(No camera on this run, so all images are courtesy of google image searches for the place in question)
Now, as it's Sunday evening, and *less* than three weeks until my Marathon (technically three weeks from this morning), I can officially say that I am in taper.
Of course, I didn't earn that taper until I completed one more run.
One last long, unexpectedly hilly, warm 20 mile run.
This time, I wasn't the one designing my run - the folks putting on the Oakland Marathon put this training run on for all of us - marathoners, 1/2 marathoners and 5kers, each with a different course. Ours was the perfect distance, 20 miles, and was on my calendar from the beginning.
The run started at 8, but I followed my usual pattern and awoke at 5am, so that I would have an hour to get ready, and plenty of time to find parking, find the meeting spot, find a bathroom, etc. I left a bit after 6 and was in Oakland by 7 - an easy drive.
I spent about 15 minutes driving up and down streets looking for parking. I found a lot at first, but all the spots were expensive and 2 hour max. So, I kept going and finally found some free street parking, unlimited on the weekend. Score!
I sat in the car for a little while, reading Peter Pan and getting myself excited. Then, I walked 4 or so blocks back down the street to the McDonalds to use the facilities (though there ended up being a porti-potty at the start, I didn't know that at the time). Thankful to have bathroom access, I was now ready to join the crowd. I grabbed my camelback (a very good choice, as I missed more or less all the water stops that were supposedly on the course), and a bottle full of powerade. I gulped down 3 shot blocks (which are now a banned substance during runs, on account of them sitting very heavily in my stomach, but are fine for a pre-run snack) and headed to Snow Park, our meeting place.
It was a pretty big crowd at 7:45 (500 runners were expected), and soon our guest speaker was giving a quick speech to pump us up. At almost exactly 8am, the guy in charge began calling out pacing groups for the marathon. I jumped in with the 11:30 group, and we were off!
The first or so miles wind around the streets near Lake Merritt, past the Fox Theater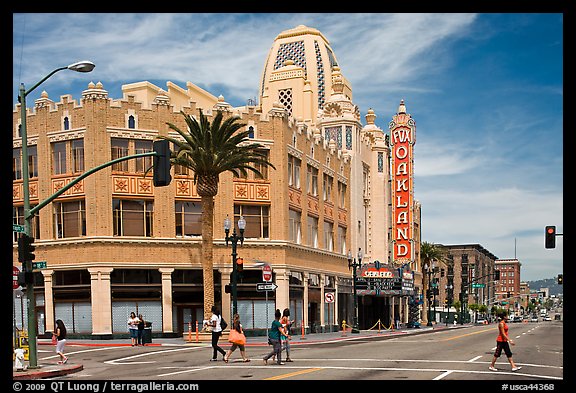 and the Paramount Theater, then climbing up on Broadway, Telegraph, and Piedmont, until finally reaching College Avenue and to the Rockridge district. The race course was much better planned than my 16 miler route from Lake Merritt to Rockridge, which featured a huge hill. This was much more gradual.
Up to this point, I was running with no headphones. I was hoping to strike up a conversation with some of the other runners, but found that I people weren't too chatty. It didn't help that the "11:30" group was running way too fast - 10:30 miles, so I slowed down and ended up sort of by myself. Surprisingly, I was really okay with that. It felt good to run my pace.
However, at mile 5, I was where Ed and I had started our 16 and knew what was coming next - hills. So, I popped on my ipod, and ran to some sweet, relaxing jazz tunes as I powered upwards. I think I had really built these hills up in my mind, because I found that they actually weren't all that bad! Before I knew it, I was at Lake Temescal,
where there were actual bathrooms (yay!) and some flattish trail. My music switched from jazz to Jackson 5, and I had found lipsyncing the music as I bounced along (i.e. why I wasn't so bummed to be running by my lonesome).
After the park, you wind through what is arguably one of the most beautiful parts of the race - the Oakland hills. The spring air smelled sweet with the blooms, and many blooming trees overhung the streets, making a canopy of whites and pinks that was heavenly with the light streaming through the petals. Some beautiful piano music made the scene perfect.
From here, it was more shopping district running and then more climbing until we finally reached the "turning point" - the Mormon Temple that signifies a gorgeous view and a steep downhill into the flats of the main city of Oakland.
At this point, I felt on top of the world, figuratively and literally. I had finished "all" the climbing for the day (not exactly true, but pretty close), I was over halfway done (barely - I was at 10.1 I think) and I had no doubts that the rest of this run would go great.
(remember this view? It was even more clear today).
The uphill was easier, but the downhill was just as jarring. I usually like downhill, but this one is steep enough that I was happy to be back on flat.
While I was feeling a lot better through this section than last time, the rest of this run isn't all that scenic. You're running through lots of different neighborhoods, but most are a bit run down and not super inspiring.
The hardest chunk was miles 14, 15, 16 on International Boulevard.
We were on this from 41st to 5th street. I also lost sight of all the other runners on this, so I was feeling pretty isolated and alone. Glad I had music.
The rest of the run was a bit loopy - literally, as you wound back and forth through a warehouse area of Oakland. I was hurting pretty badly, but so were others - I finally caught up with and passed at least 3 other runners.
I finally reached Oak street, which was my last major turn. With a little over a mile left, I knew without a doubt I would finish, which boosted my spirits. I could still sprint to make it through lights so I did have some speed left, but I was very much ready to be done. I had run out of water at mile 19 which was fine, but didn't help things. I had done great with eating and salt, sticking with my newly tried and true method of gu every 3 miles and salt every 40 minutes. I think taking the salt more frequently is single handedly responsible for and end to the severe headaches I used to always get after long runs. I did perfectly, except for not taking my mile 18 gu - I figured I had enough steam to finish without it.
As the miles ticked slowly past on my GPS, I finally reached Lake Meritt.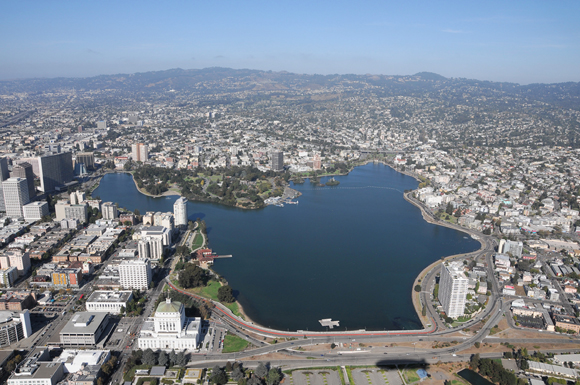 Realizing that my mileage would be a touch short, I decided to just keep going around the lake until I got closer to 20. But, at the last minute, I saw that a cross walk heading back to Snow Park was flashing green, and figured I'd take the opportunity. As I reached the crosswalk, my miles turned from 19 to 20 and beeped at me to let me know that I was finally done.
It took me 3 hours, 45 minutes and 47 seconds. An 11:18 pace. Much better than the 16 with Ed and awesome considering the hills.
I gingerly walked the remaining way to the stop where I exchanged congrats with other runners in various states of pain and poured myself a full bottle of water. Then, taking off my shoes and socks and laying down on the cool, shady grass, I looked up into the sky at the mammoth skyscraper in front of and above me. I stayed there for 10 minutes or so, reflecting on my run and the accomplishment of running this long distance that has eluded me for so long. However, I wasn't nearly as euphoric as I thought I'd be. I think I was just tired.
Finally, I decided to pull myself up and head home. Carefully lacing up my shoes, I headed to my car. As I walked away few runners said goodbye, and we said we'd see each other in 3 weeks.
So, I officially know the neighborhoods of Oakland. At least 20 miles worth. And, I'll be making that 26.2 miles of Oakland on March 25.
Thankfully, I have 3 lovely weeks of tapering before I have add on those extra 6.2 Oakland miles.