This weekend I had the pleasure of, not one, but two trail excursions, which seems to be a treat that I don't normally enjoy.
Saturday I met up bright and early with OCTR for a run in Black Star Canyon, which, contrary to mapquest's prediction of a 40 minute drive from my house, was actually only 25 minutes away. Nice to be closer, but it resulted in my arrival at the start almost a half an hour early! Much to my surprise, instead of the empty parking area I expected, the roadsides were packed with cars. There was a huge truck in the middle of the road and a crowd of people standing by. Apparently the only other people crazy enough to get to a trailhead at 6 in the morning besides runners are mountain bikers, and there were lots of them!
By 6:30 most everyone else had shown up, and we took off in slightly separated groups, some going as long as 18, while others (myself included) planning on just 12. The great thing about Black Star is that it's mostly uphill the whole first back, and, as an out and back, treats you to a lovely downhill on the return. I stuck with Vinnie, Skip, and Tracy on most of the out section, and we enjoyed taking it easy, running patches and walking others.
Vinnie, Skip, and Tracy heading up
Always ready with the camera, I had fun running ahead to snap pictures and then falling back into walking. As we approached the 6 mile turn around, we collectively decided that just one more mile up wouldn't be too much trouble, so we headed up a bit further.
Skip and I pause for a photo-op
Finally, we turned around, and began the wonderful 7 mile descent back to the cars. As downhill running is my favorite part of trails, I kept getting ahead of Skip and Tracy, enjoying the carefree feeling of gravity pulling me towards my destination. After stopping and waiting a few times, Kalea (who was doing 16) caught up, and I decided to go ahead and run in with her, since she seemed to be going a good pace. We stayed together, inadvertantly pushing each other towards the end, and had a really nice finish to the run.
Getting back to the car, we saw that Vinnie had already hooked up his toaster and had the bagels and cream cheese out. A lovely end to a good run :)
For anyone wondering (per my profile) I can indeed make an airplane out of a banana peel :)
___
Sunday was a father daughter run, after my dad suggested we hit the trails together this weekend. This was only his second time on trails, and I was really proud of how well he did. We got lost a bit, and ended up with 7 miles instead of 5.5, and considerably more elevation, but we enjoyed ourselves. It was a beautiful day in Whiting Ranch (the Only Orange County trails I really know) and we enjoyed some of the beautiful singletrack in the park. we saw a huge deer that was hanging out on the side of the trail, which was fun, and of course some jackrabbits and squirrels as well. No mountain lion sightings, but I can't say I'm complaining about that one :)
____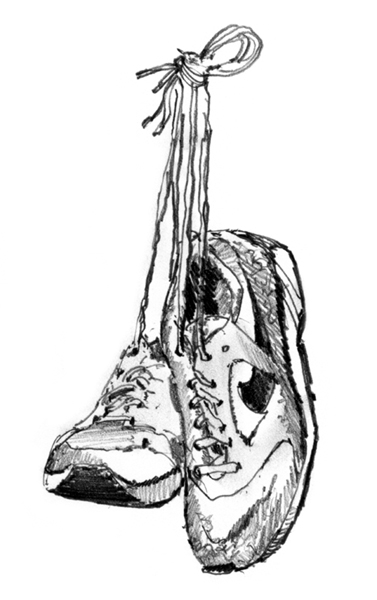 This week the marathon (and the 60 mile week that inadvertantly followed) has finally caught up to me and my legs are feeling pretty shot. My foot was hurting a little today, and my knees felt a little off yesterday, so I'm going to be smart and take thursday and friday off (as much as it pains me to even write that!) I'm doing a challenging (but slow!!) 22 miler on Saturday and the last thing I want is to get injured just over a month out from tahoe. I think I got ahead of myself, feeling so great w/ the marathon and getting in these 40+ mile weeks, and I need to cut back. My run tuesday ended up being 3 instead of 6 because my legs were so beat (and it was 85 degrees) and today my legs felt pretty tired as well. I know time off will make me a better runner, so I'm doing what I need to do. It's sort of cool though, I guess, that taking off 2 days in a row seems like a big deal now.
Instead of running, I'm thinking I'll go to Barnes and Nobles and use some of the $100 gift card I was given for graduation. Any book suggestions?